Review - Safe Limits by Morticia Knight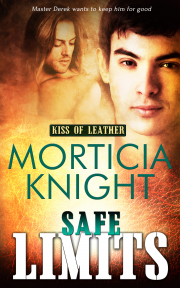 While Gavin and Kyle from the previous book, Building Bonds are settling nicely into their D/s relationship, one of Gavin's partners in the Kiss of Leather venture, Derek, remains steadfastly single. He's been burned by one too many fickle subs. Then Gavin and Derek's other partner Josh asks a big favor: his sub's childhood friend Corey has just escaped from an abusive relationship and needs a place to stay until Josh gets back to town. Corey suffered at the hands of a bad master who pushed him beyond his limits and ultimately ignored his safeword. Derek is instantly smitted with the younger man, but will Corey ever be ready for another D/s relationship, or will he leave the BDSM lifestyle behind?
"Damaged" sub meets the "right" dom may seem like a repeating theme of many BDSM romances, but "Safe Limits" manages to make it fresh and interesting. Corey's trauma and his initial reactions to the people around him seem quite real. His turnaround might seem a little too fast and easy, but it doesn't happen without some groundwork and acknowledgement of the process, so it's more a case of a bit of literary license to keep the story moving along at a reasonable pace.
We get quite a good picture of Corey. He is a nice, naturally submissive young man who, as a newcomer on the scene, was easily manipulated by an uncaring and unscrupulous Dom. You're probably going to be rooting for him from the very beginning.
Derek takes a little while for us to get to know and warm up to, but he eventually shines through as someone who will do anything to protect someone he cares about. The story derives a few occasions of comic relief mainly from Derek's attempts to figure out what to do with the skittish Corey, and then try to maintain a distance until he is sure Corey is ready.
The characters may be archetypes but they're still well defined, which is a big part of what makes the story a good read.
"Safe Limits" is available from Amazon.