Review - Switching Places by Morticia Knight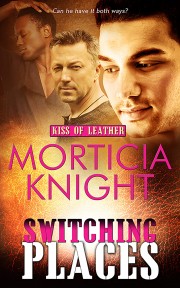 As the head bartender at the Kiss of Leather club, Elliot sees most of what goes on. He's very happy that his friend Tobey and Master Hunter have finally got together, and he tries to be happy that his long-time crush Tai seems to be hitting it off with Master Lucas, but he still wishes he could find a Dom to give himself to completely. Tai and Lucas are finding that they're more attracted to each other than either of them expected, but there's no getting past the fact that Tai doesn't want to be a full time sub, and he even likes to top sometimes. Could Elliot be the solution to their dilemma?
This eighth installment of the long-running series is definitely a bit of a departure, with its exploration of a developing three-way kinky relationship. I'm always fascinated to see how these complex relationships are dealt with in fiction. Getting two people on the same wavelength is difficult enough; three sometimes seems impossible. It's easy to see why the arrangement makes sense for all three men, but then human beings aren't well known for doing the sensible thing.
While we get to know all three characters quite well, Elliot is in many ways the linchpin of the three. He turns out to be an very interesting character. While he is very motivated to submit, he's clearly not some helpless twink who needs someone to take care of him and make all his decisions. The events which create the dramatic turning points of the story, bringing the three together and forcing them to face their desire for commitment, show that the young man can actually take care of himself fairly well, even though we all could use someone to call when we need help.
Tai and Lucas are also well developed, likable characters. Tai is probably the least submissive sub of the series so far. He also played a significant part in the previous book, so we already know him rather well before this story starts. Tai seems to be quite a colorful character, even if he does talk like my grandma. Lucas is very much the typical Dom of the series, who almost all appear to be highly successful men with all the time in the world to devote to their boys. However, it is nice to see a Dom that is less than a perfect match for the perfect sub.
"Switching Places" is available from Amazon.