Review - Grand Opening by Morticia Knight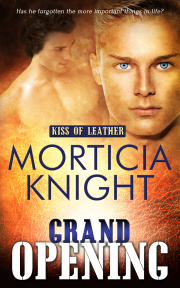 The grand opening of the new BDSM club, Kiss of Leather, is just a few days away and everyone is working hard to get everything ready. Unfortunately, one of the three partners, Josh, is so single-minded in his desire to make sure everything is in order for the opening that he's ignoring his sub David. Even when it's pointed out to him, he has trouble staying on track, giving David the attention he needs and deserves. Can the two find a way back to what they had, or is being a master no longer something Josh wants?
Relationships that falter or fail because one of the partners becomes so wrapped up in work that they ignore the other must be all too common in the real world, but you rarely see such mundane subjects come up in fiction, especially in D/s stories, where such distractions could be disastrous. Josh and David's relationship issues are all too believable, and are portrayed in a realistic manner. The problem seems so real that you really wonder if an obsessive personality like Josh really can change enough to get David back and hold onto him.
Like the rest of this series, "Grand Opening" weaves the main story of Josh and David in with the threads of the previous books, so you'll want to have read the first three installments of the series before tackling this one. This book moves along the over-arching plot of the slave trafficking ring that caught up Corey and Marshall in the last two books, as well as catching us up on the relationship between Marshall and Stone. It also rather emphatically sets up the next book, which features Stone's assistant and the manager of another club.
Each book in this series so far has been a delightful blend of hot kink and endearing romance. Having a mystery as the connecting plot line definitely makes you want to read the next book as soon as you finish the last (but I won't). In truth, the whole idea of the club and the world in which these characters exist is a bit of a fantasy, but it's one you kind of want to believe in.
"Grand Opening" is available from Amazon.