Review - Facing Fears by Morticia Knight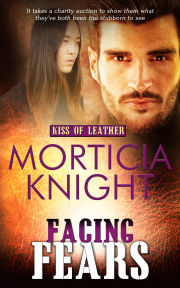 The long investigation into the human trafficking ring that kidnaped Corey and Marshall is finally coming to a successful conclusion, but not before threatening another one of the subs associated with Kiss of Leather. While most of the owners of the club celebrate the end of the nightmare along with their subs and friends, one of the partners isn't able to join in the fun. New partner Hunter is smarting over mishandling one of the club subs, Tobey. All the other partners may be in committed relationships with their subs, but Hunter had always felt that monogamy wasn't for him. So, he kept subs like Tobey at arms length, denying his growing attraction and ultimately driving the young man away.
This seventh book in the Kiss of Leather series finally sees the conclusion to a story arc started way back in volume two. The crime drama has served to bring more characters into the intertwined story lines, although sometimes the progress of the case was little more than short bookends at the beginning and end of each book. However, the rapid series of events leading to the end of the case, largely involving characters from the last couple of books, takes up about half this volume.
The remainder of this book is the story of Hunter and Tobey, although bits of it are introduced as things run their course in the conclusion of the investigation. Like a previous book in the series, Grand Opening, "Facing Fears" takes on the somewhat rare theme of a Dom who is less than perfect. Hunter's reasons for the way he treated Tobey, which amounts to commitment-phobia, is quite understandable, but even Hunter knows he handled it badly. His dilema is definitely relatable: Can he put things right, and even if he can, where do things go between him and Tobey?
We get some of the story from Tobey's point of view, as well as Hunter. Tobey seems to be a sweet young man who desperately wants to belong after being shunned by his own family. In at least some ways, he and Hunter are quite similar, but they've chosen to deal with things in different ways. 
"Facing Fears" is available from Amazon.