Review - Gaining Trust by Morticia Knight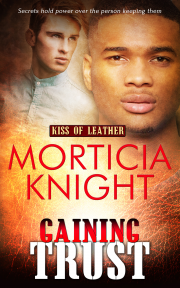 Chuck and Jordan have been dancing around their mutual attraction for a while now. Chuck knew nothing of the BDSM lifestyle before private investigation agency he works at took on the case of Corey's abuse by a former dom, but he's fascinated by the intensity of the relationships he sees between the owners of Kiss of Leather and their submissive partners. It's the kind of relationship he's always wanted but didn't understand. He just can't quite accept that club owner Jordan would want to have a newbie like him when he can have his pick of experienced subs.
This installment of the Kiss of Leather series is a little more focused on the developing relationship of the one couple that the last few books. You'll still want to have read the previous books to get a background on Chuck and Jordan as well as the rest of the key players in Kiss of Leather, so this volume isn't quite stand-alone. The over-arching plot line of human trafficking also gets moved along in a small but significant way in this installment.
Chuck is a quite sympathetic character. It should be easy to put yourself in the place of someone taking that first big leap into unknown territory. No matter how much you want it, it can still be scary. His feelings and reactions seem quite realistic in the circumstances, making Chuck a very believable character.
Dom Jordan is, as we've come to expect, a little too good to be true, but at least in his case he readily admits to being an atypical Dom as well as a bit of a romantic at heart. This of course makes Jordan a very likable person. Together, he and Chuck actually make a rather cute couple.
As already mentioned, this is a pretty focused installment of the series. The spotlight stays on Jordan and Chuck for almost all of the story, which makes for a tight story that you'll probably read through quickly.
"Gaining Trust" is available from Amazon.