My rating: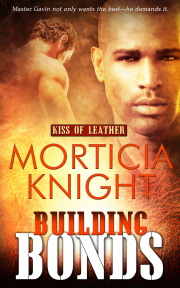 Building Bonds
by Morticia Knight
Volume 1 of Kiss of Leather
Shy carpenter Kyle has a knack for building exquisite dungeon equipment, even though he himself is not in the lifestyle and doesn't believe his old friend when he tells Kyle he's a natural sub. When Gavin approaches Kyle with an offer to build equipment for the new BDSM club he is opening with his friends called "Kiss of Leather", he just assumes Kyle must be an experienced submissive, and takes quite an interest in the young man. Kyle is afraid to tell Gavin the truth, which of course leads to complications.
"Building Bonds" is a sweet and spicy kinky romance, with just enough realistic drama to keep it interesting. There's very little doubt how stories like this will end, so the trick to making them interesting is how believably they get there, and this story definitely is a good read.
Kyle is a very relatable character, at least for me. I found myself readily identifying with him and the way he reacted to most situations. He is painted as a very honest and earnest young man, but in an entirely believable way. Dom Gavin, on the other hand, is a little too good to be true. It's not enough to ruin the story, and he really is the perfect one for Kyle, but it's much harder to believe a guy like him exists in real life. Still, you want him to be real, so it doesn't detract from the story.
This is the start of a recently re-issued series centered around the Kiss of Leather club, and so many of the characters that will feature in later books have been introduced in this one. They're not given much to do in this story, so we don't get to know them that well, yet.
"Building Bonds" is available from Amazon.