Review - Hiding From Two by Morticia Knight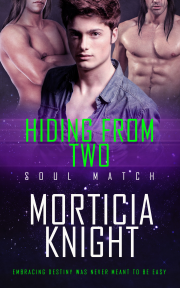 Chris' cousin Morgan takes center stage in this third installment of the Soul Match series. The skittish young man continues to have uncomfortable thoughts about Halosh, the Alasharian who guarded him after the disastrous pleasure party thrown by the Nall, and now he's about to meet Rama, the commander to whom he is ostensibly going to be a slave for. When the two finally do meet, things don't go at all the way Morgan expected.
"Hiding From Two" continues the series' blend of kinky erotica, BDSM and science fiction. Things get a bit kinkier for Chris and his mates in this volume, but it's Morgan's sexual awakening that takes center stage. The turnaround in Morgan's attitude is a bit abrupt, but it's handled quite well. Chris' cousin has always seems a bit less mature than he supposedly is. This is a common issue I sometimes have with "M/M" stories: young twenty-something men with the emotional maturity of an eight year old. I have no doubt people like that exist, but sometimes the child-like nature of characters is so extreme it makes the sex a bit sketchy. But I digress, Morgan is not that bad, and the geeky introvert picture painted of him in the previous books goes a long way to explaining his lack of experience.
But it isn't all hot and kinky alien sex. The story also moves the plot along to a key turning point in the fight against the Void which is consuming the Alasharian leadership. The ending of this installment is not quite a cliff-hanger, but it does leave me wanted to read the next book in the series quite soon. Fortunately, the next book is already out.
I'm not sure if it was intentional, but there's a loose parallel between the overall story line of the series and the current political climate. The idea of a leadership being consumed by an evil force seems somewhat apropos of what's going on in the USA. However, since the series was started in 2016 it's hard to say if the author was prescient or just lucky, if you can call it that.
"Hiding From Two" is available from Amazon.