Review - Fighting for All by Morticia Knight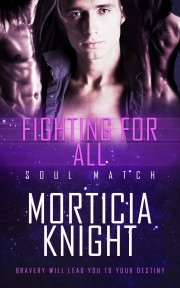 Chris and his Alasharian mates arrive at the mountain hideout where Morgan, Graham and the rest of the humans and Alasharians have gone to escape the Nall and other aliens infected by the void. Unfortunately the enemy forces are hot on their heels, so the time for a final showdown is drawing near. Can the uninfected Alasharians and the surviving human work together to fight off the void?
This is quite an action-packed conclusion to the Soul Match series, in which all of the characters introduced in the previous four books take part. Chris and his two alien lovers Lasar and Nary once again take center stage, but Morgan and Graham along with their Alasharian soul matches also have their parts to play in the final showdown. As in previous volumes of the series, the point of view shifts from one character to another. With so many players on the field, this could be confusing, but it was never any problem figuring out who was telling the story at any given time.
This whole series has been quite a good read, with its unusual combination of science fiction, kinky sex, menage relationships and even a light touch of spirituality. The themes may not appeal to all, and some might even find them objectionable, but they work well together to create a compelling story that ties everything together. This final installment wraps up all the plot lines of the books rather emphatically, although one could see the opportunity for further stories based in the same world created by these books.
The human characters in this series have been very believable. Chris, Morgan and Graham are three very different young men with distinct personalities and understandable reactions to the situations they find themselves in. The alien Alasharians have been quite consistently portrayed throughout all the books, resulting in a good picture of the people and the culture that produced them.
"Fighting for All" is available from Amazon.