Review - Slave for Two by Morticia Knight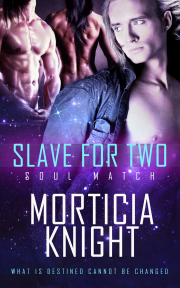 Admittedly, in rough outline it sounds like the plot of a porn flick: A race of super-hunky aliens with a strong penchant for BDSM invade earth, quickly subdue the population, and round up all the twinks to serve as sex slaves for their kinky enjoyment. What saves it from being eye-rolling smut is strong character development. A good portion of this book, the first in a series that already stretches to four volumes, is spent getting to know the main human character Chris before he is captured by the Alasharians.
We don't meet Chris' new Alasharian masters, Lasar and Nary, until he does, but from then on we get some of the story from their point of view, which helps a little in understanding the dynamic of the relationship that develops quite quickly between the three. The speed at which Chris accepts his situation is perhaps the biggest potential weakness of the story. There is a reason for that, but it is still a bit of a stretch that perhaps warranted more time in the plot to develop. This point is not totally ignored by the story line either. Chris has his own Jiminy Cricket of sorts, in the form of his cousin Morgan, who reminds him of the people, including family, killed by the aliens he now embraces.
This book sets up the characters and situation for a series, and does it rather well, but it should come as no surprise that the ending leaves a lot of questions unanswered. Fortunately it doesn't end with a cliff-hanger, so you won't be compelled to read the second book right away, but it won't be long for me. I'm curious to find out at least some of the answers to the questions raised at the end, and to see what kinds of things this power exchange threesome gets up to.
I guess I also have to admit that, while the whole "unassuming sub finds the right Dom and saves the galaxy" theme might be a little cliché, I'm a sucker for it every time. Chris is a typical BDSM fiction newbie submissive who doesn't know the power he wields over his prospective Doms, let alone whatever it is that seems to make the bond between him and his masters deeper than anyone ever expected. The time spent early in the book developing Chris' character was definitely well spent, as finding out what happens to him is the main reason I'll want to read the next book(s).
"Slave for Two" is available from Amazon.