Review - Cherished by Two by Morticia Knight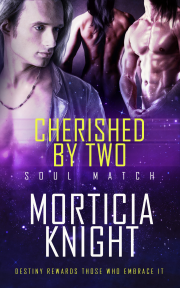 Human Chris continues to adapt to his life as soul mate to his two Alasharian masters, as well as tying to puzzle out how it is that he is in some way key to the survival of both races. However, as the nature of the threat becomes clearer, so does that fact that Chris and his masters, as well as his family, are in great danger.
This second book in the Soul Match series picks right up where the first one, Slave for Two, leaves off. Chris is definitely shaping up as an interesting character. One moment he's a typical young man in the first bloom of love through submission, and the next he is someone with the weight of the world on his shoulders. It's not an entirely contradictory situation, the way it's portrayed. The kink actually helps with the transitions, with Lasar and Nary helping Chris to understand they are there to keep him safe.
The alien Alasharians are starting to come into focus as well, as we learn more about their culture and class hierarchy. There's a strong mystical element that's obviously going to play a big part in the full plot arc, but it isn't too much of a stretch to make the story less believable. Nary is the alien who spends most of his time with Chris, so the one we get to know the best. Although he is Lasar's submissive, Nary must now learn to be Chris' Dom, which is an interesting process in itself. The dynamic between the three males, even without the other elements of the story, is quite griping.
While much of this book focuses on Chris, Nary and Lasar, there are other characters that will apparently play bigger roles as the series progresses, especially Chris' cousin Morgan, who seemed to be forgotten there for a while towards the end of the first book. Morgan plays a key role in the pivotal action scene where we learn just how dangerous things really are for the main characters.
"Cherished by Two" is available from Amazon.