Review - Revelations by Gillibran Brown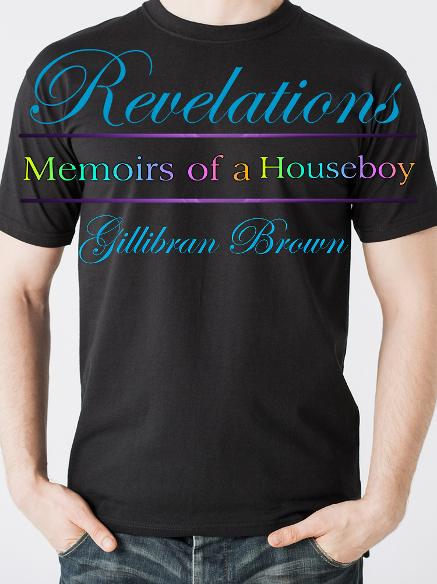 This long-time-coming sequel to Christmas at Leo's sees the repercussions from the events of that book come to fruition. Things continue to be tense between Gili and the two men he shares a relationship with, Dick and "Daddy" Shane. The young man begins to seriously question whether or not there's a future for him in the household that's become the closest thing to a home he's had.
This sixth book of the series (not counting the many shorts also released) seems to be the culmination of the core story arc. It recounts events that are now more than ten years in the past, seven years since the last full book was published, and we sense a new maturity in the writer's voice, although the houseboy retains much of the cheeky attitude that has marked the books. As in the previous volume, much of the drama stems from Gili's failure to share his concerns with Shane as well as Dick. I had a bit of an epiphany about this towards the middle of this book: While the houseboy needs to bear a lot of the blame for the issues his behavior creates, it does demonstrate a lack of trust in his "Daddy" Shane, and for that, the Dom needs to shoulder at least some responsibility. I won't spoil the book by revealing whether or not Shane eventually redeems himself by the end.
One of the big questions of this series has been the degree to which the story is autobiographical. It's generally been my view that, while some events may have been exaggerated for effect, there's an element of truth to the stories and characters. This idea is further enforced by the voice of the narration in this book. Gili comes across as a very authentic character. In daddy kink terms, he is definitely a "brat" but while most brats in D/s stories are just attention-seekers, there are much deeper nuances to Gili. Sure, his actions get him lots of attention, but that's not primarily why he's doing it, and there are some deep psychological reasons behind his behavior.
In a similar way, Shane is far from your typical Daddy from kinky stories. He isn't all-knowing, and while he is well-to-do, he still has to work for a living running his own business. In short, he's very human, and he makes mistakes. This makes him a much more sympathetic character than he may have been in the first books.
"Revelations" is available from Smashwords and Amazon.