Review - Achilles and the Houseboy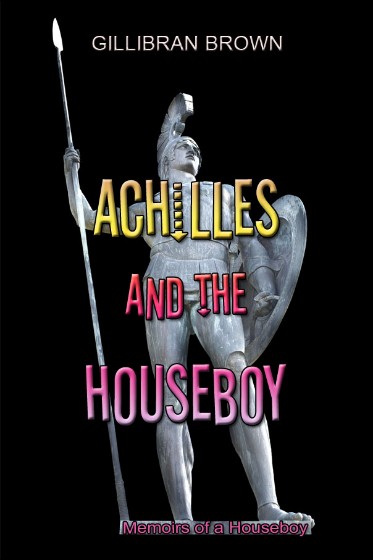 Achilles and the Houseboy
My rating:
Posted in Book Reviews on May 31, 2013
This further adventure of my favorite houseboy in a domestic menage with two older Doms is actually an outtake from his previous book, More Fun With Dick and Shane. With fewer digressions that the first two books, this volume squarely tackles an issue only briefly touched on in previous books, and one of the most sensitive aspects of a menage relationship: jealously.
After an hilarious introduction in which the reasoning - which only this author could conjure up - behind the title is explained, the book gets pretty serious. Gili is reminded, in very graphic fashion, that his daddies Dick and Shane share a history that he will never be a part of. They were together ten years before the stroppy young houseboy came into their lives, and their bed. Jealously rears its ugly head, and can't be easily dismissed.
Dick and Shane know something is bothering their moody young pup, but they have no idea what's causing it, since the immature Gili can't simply open up about his feelings, which he knows, somewhere in that thick head of his, are wrong. Unfortunately, the two Doms just make things worse, giving their not-so-submissive houseboy even more cause to think he is surplus to requirements in the relationship. Of course, it all blows up eventually, and at the worst possible time for the two daddies. Of course, there's no reason to worry, since there are at least two more books in the series, so all is not lost for our hero.
While delivered in the author's inimitable style, this is a much more somber story than the two previous books in the series, and it's easy to see why it has been set aside as a separate work. It's easy to identify with Gili's feelings, and while he takes full responsibility for his immature thoughts, I think he lets his daddies off lightly. They're a little insensitive, and their approach to things they think might upset Gili is to exclude him from any involvement in the decision, which of course only fuels his insecurity. It's all well and good to argue for openness in such a complex relationship, but the heart isn't very logical.
Taken in context with the previous book, it's now easier to understand the previous work, and why there were such lengthy passages on the nature of Gili's complicated relationship with his two daddies. The events described in this book happened in the midst of the previous story, so if you read this soon after "More Fun With Dick and Shane" you'll get a much better picture of what is happening.
"Achilles and the Houseboy" may be purchased from Smashwords. You can find out more about the author and find other links at his web site.