Review - More Fun With Dick and Shane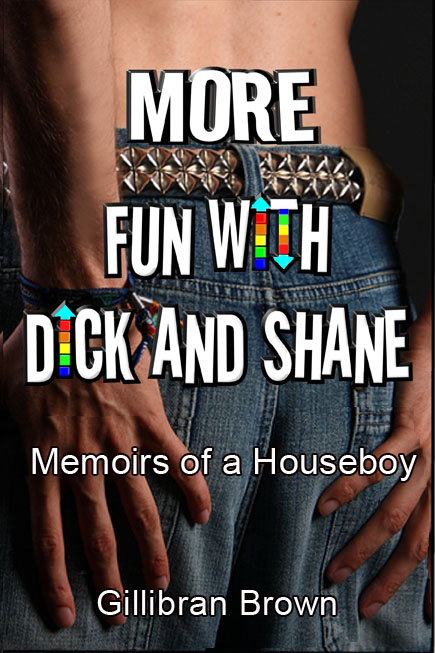 The houseboy is back, and he's still in good form. Like the first book, there's no real plot to this 'memoir'. It's mostly in the form of a diary with a few longer stories interspersed in.
'Gilli' is a 25 year-old houseboy and submissive 'boy' lover to two older 'daddy' doms, Dick and Shane. It isn't always easy for the impulsive and headstrong young man to live up to the expectations his daddies place on him. Gilli has a hard time controlling his emotions, and sometimes jealously or resentment gets the best of him. However, in this sequel, it seems to me that Dick and Shane have mellowed a bit and are somewhat more understanding of Gilli's feelings of insecurity, although they still don't stand for any bad behavior and are quick with the spankings when he gets out of line.
What I loved about the first book was the light-hearted style in which much of the story is delivered. In this second volume, there are again many laugh-out-loud and face-palming moments as Gilli gets into all sorts of new situations that get him into trouble.
But there are also serious moments, and that's what makes both of the books more than just a bit of fluff. In this book, Gilli has to deal with his mother's terminal cancer, and all the pent-up resentment he has harbored towards her.
The one fault I have with this sequel, and why I'm not rating it as high as the first, is that it gets a bit too introspective and pedantic at times. The author seems to feel he needs to explain the complexities of Gilli's relationship with his daddies, and while I can certainly believe that most people have trouble understanding D/s power exchanges, not to mention menage relationships, I thought the passages of reflection and explanation were a bit too numerous and long this time around. The reflection seems to show a young man maturing, which is a good thing, but for me it was a tad over-done. Towards the end, it came off as being more defensive than anything else. Still, on the whole this is a very enjoyable read, and I'm looking forward to the next one, which is due out soon.
Find our more about the author at his web site, which includes links to purchase. You can also buy the book from Smashwords.