Review - Going Deep by Silvia Violet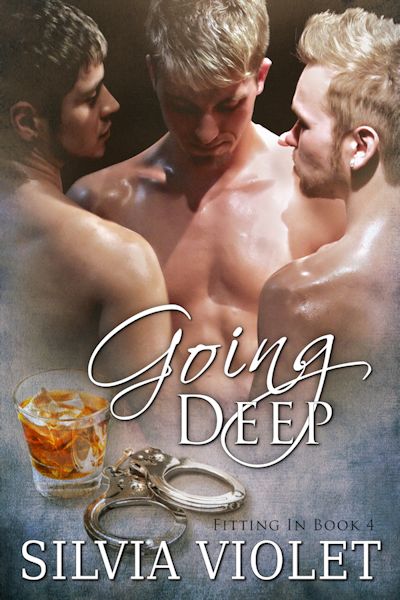 This last book of the "Fitting In" series returns to the original threesome of Jack, Gray and Mason. This time we get the story from Gray's point of view. Now a detective, he is faced with the puzzling murder of a teenage girl, who may have been forced into prostitution by a notorious crime boss, yet there are precious few clues as to who is responsible. When another girl turns up dead, the pressure mounts to find some clues. The cases bring back some unhappy memories from Gray's childhood, which doesn't make it any easier.
Jack and Mason want to be there to support Gray, but he has trouble asking for their help. He's supposed to be the one who takes care of them, and still can't quite open himself up and risk being vulnerable in front of them.
The first two books of the series allowed us to get to know Mason, Jack and Gray fairly well, so there's not much more for us to learn about them in this installment. Instead, "Going Deep" gives us more insight into how well this menage works, and how determined the three men are to keep it working. Maintaining any relationship is hard; keeping things balanced with two other people is probably exponentially harder.
You could certainly argue that the three-way relationships described in this series are highly unlikely, but they've been depicted in ways that make them very believable. This, combined with some very hot and kinky scenes, makes the entire series a really great read.
"Going Deep" is available from Amazon.
comments powered by

Disqus