Review - The Walls Between Hearts by L.A. Witt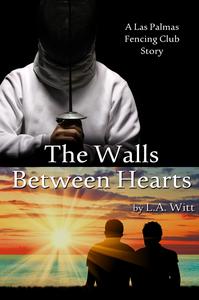 After burying two partners, Terry isn't interested in another relationship. He doesn't want to face the possibility of going through the loss of another man he was close to. Gene feels much the same way. He hasn't had to face the death of a partner, but after two divorces and a lot of failed relationships, he's not looking for love. Friends with benefits might be nice, though. When Terry and Gene meet at a Las Palmas Fencing Club event, there's an instant attraction, and since neither of them is looking for a relationship, they think they've found just what they're looking for. What could possibly go wrong?
"The Walls Between Hearts" is an unexpected sequel to The Master Will Appear, in part because the previous book was so complete. However, this story focuses on two different people, and while Ryan and Misha from the first volume definitely play a part in this book, it's still a separate story, and you could conceivably read this novel without having read the previous one. But, more than just the surprise of an unexpected sequel, this is a very different style of story than its predecessor. Where BDSM played a key role in the development of the relationship between Ryan and Misha, Terry and Gene enjoy a rather vanilla sex life.
The two men are quite believable characters. The chapters alternate points of view between Terry and Gene, so we get to know both men quite well. Their mutual goal of trying to avoid romantic entanglements is quite understandable, even if we can see that's it's doomed to fail. Gene and Terry are older men (my age, in fact) and their experiences, while quite different from each other, are totally in line with what gay men of that era would have had.
The main source of drama in this pre-COVID story's plot is Terry's financial and other difficulties owing to his daughter-in-law's cancer treatment. The son and daughter-in-law are the primary secondary characters, and they along with their plight are portrayed almost painfully believably. While the main plot is about two older men finding the courage to give love another chance, a significant sub-plot is about the stresses of being a caregiver.
"The Walls Between Hearts" is available from Amazon.