Review - Trusting Him by L.M. Somerton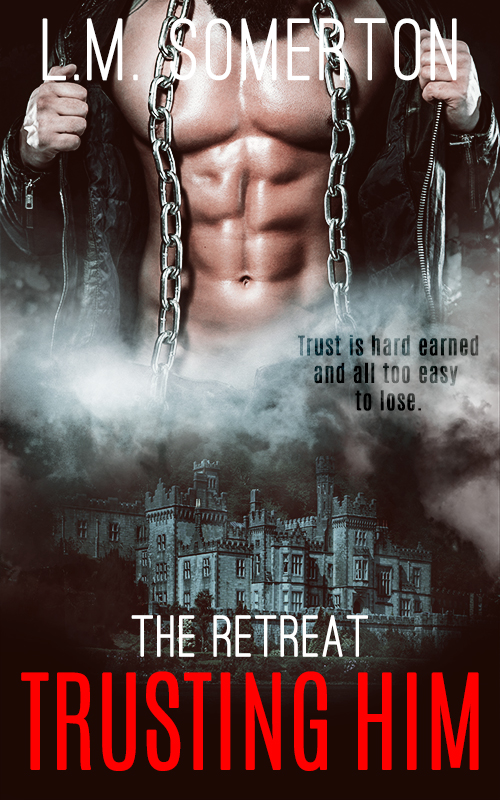 The manager of The Retreat, Luke, as a problem: There's a big party coming to stay and he doesn't have an experienced waiter to serve the elaborate meals they plan to have. The owner of The Retreat, as well as the Underground Club, has the ideal solution. Skye is a professionally trained server that just started at the Underground Club. He believes he is submissive, but hasn't yet figured out what he needs beyond that. Skye seems to be just what Luke needs, in more ways than one.
This second installment of The Retreat series is just as sweet and spicy as the first. The ending is a foregone conclusion pretty much from the first chapter, so all you need do is sit back and enjoy the read. There's just enough drama to keep things interesting, and it's a real page-turner as you wonder how things will eventually work out between Luke and Skye.
Luke, along with a few other staff of The Retreat, was introduced in the first book, but if you didn't read that one, you won't be missing out on much. The Retreat's manager is the perfect man for the job. He's very tough and demands the best for everyone, but not to the extent of being unconcerned about each employee's well-being or asking more than they're capable of. That also makes Luke very good Dom material.
Skye is a very interesting and endearing character. It's clear from the outset that he has some past trauma, and it eventually comes out over the course of the story, making him even more lovable. He's one of those classic people-with-a-terrifying-past-that-somehow-turn-out-to-be-normal. As with most stories in this genre, Skye and Luke were made for each other.
As noted in the previous book of the series, there's a strong element of fantasy here. The Retreat is not a place that is at all likely to exist in the real world. Believability is stretched a little less in this volume, since Skye is hired to be a waiter, albeit a scantily clad one.
"Trusting Him" is available from Amazon.