Posts labeled Eden Winters
My rating:
They say ghosts are people who died with unfinished business. Byron's rather unusual desire is to see his nephew and his partner's nephew together. The two young men were like sons to the two older men, and it's both their desires to see Paul and Alex get along. To say it's not going to be easy would be an understatement. Alex is the very model of an rich entitled young man.
Tags: Paranormal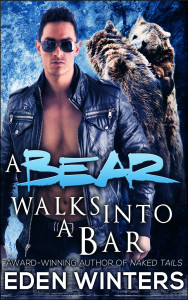 My rating:
Dillon, Kevin, Jerry and Brad are all on their own before they become friends and settle in a small mountain town to open a bar. They're all shifters; Dillon is a bear, Kevin and his cousin Jerry are wolves, and Brad is a fox; but it isn't easy for them since they lost or were forced out of their family groups before they learned how to use and control their powers.
My rating:
In a small Georgia town, young Seth's life is falling apart. He has just lost both his parents in a traffic accident, and now his maternal grandmother is taking him away from the only home he's ever known, because she fears and despises the 'deviant' behavior of her late son-in-law's family. Seth can't bear to be parted from his kindly great aunt, or his best friend Dusty, a slightly older boy who is the closest thing Seth has to a brother.
Tags: Shifters