Posts labeled Slightly Kinky
My rating:
Bryant has been working, albeit unwillingly, for one of the criminal gangs that operate on the space station for many years, so he's no stranger to breaking the law. However, burglary isn't one of the things he's had a lot of practice at. But, he needs money quickly to keep his daughter from being shipped out to a prison planet, and stealing a small trinket from a fancy ship in the dock seems like the easiest way to get it.
Tags: Science Fiction Novella Slightly Kinky
My rating:
This review originally appeared in slightly different form at BDSM Book Reviews. Johnson is just closing up the garage where he works when Texas transplant Billy drives in to get his truck serviced. There's an almost instant attraction between the two, and after a flirtatious dinner, Billy invites the big mechanic home, where the sparks really begin to fly. "Bruised" is, more than anything, pure grade A smut. Once Billy and Johnson get together, which happens within the first few pages, we're treated to an almost continuous sequence of scenes as the two explore a rather specific kink they discover on their first night together: Johnson loves Billy's pale skin and can't keep his lips and teeth off of it.
Tags: Slightly Kinky BDSM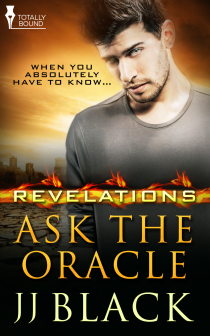 My rating:
This review originally appeared in another form on BDSM Book Reviews. Grayson Muir knows things. In fact, he knows just about everything. He is one of a handful of "oracles" in the world, and probably one of the best. Gray makes a good living off corporate clients, and helps out the police when he can. In fact, Gray likes helping people. Emphasis on people. When a demon from the underworld comes asking for Gray's help to sort out a sticky situation, his first instinct is to refuse.
Tags: Fantasy Slightly Kinky