Review - The Poison Bottle by L.M. Somerton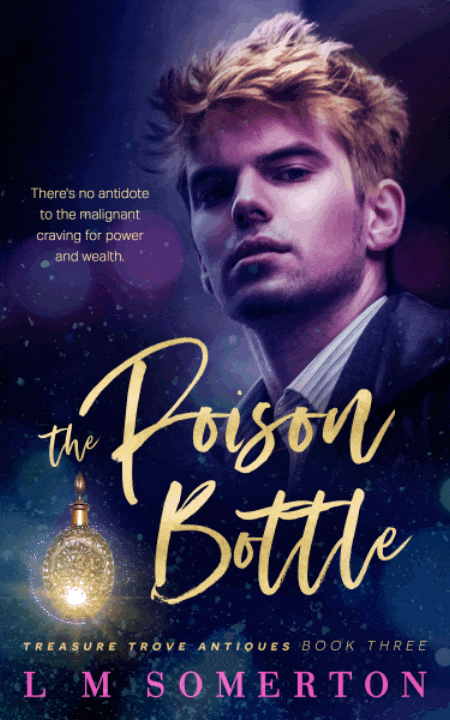 Landry is just going about his business of opening up Treasure Trove Antiques when he discovers a dead body in the doorway of the shop. The police are soon called, and that brings Landry's Dom, police detective Gage, on the scene. The dead man turns out to be the owner of another antique shop and starts the two down a dangerous path on the trail of a murderer. Will Landry's penchant for getting in trouble finally get the best of him?
In this third book of the Treasure Trove Antiques series of kinky mysteries, Landry and Gage are an established couple. Landry remains the irrepressible bratty submissive who tries Gage's patience, and the detective wouldn't have it any other way. Their sort-of nemesis James Ellery is also back in Seattle to keep the guys on their toes.
Landry remains the extremely lovable brat who can't seem to stay out of trouble. Granted, it literally lands on his doorstep this time, but despite the very sensible orders of his Dom, the young man can't resist poking his nose into the case. It all tries Gage's patience, but the man readily admits he can't bear the thought of being without his brat.
One of the things that makes this series so much fun is the rich cast of characters around Landry and Gage. Landry's friend Petey returns as his partner in crime as well as shop assistant. Like Landry, Petey is a submissive and has just started a relationship with fireman Carson. Then there's British insurance investigator Ellery, who can't seem to keep himself from winding Gage up.
"The Poison Bottle" is available from Amazon.