Posts labeled Vee Hoffman
My rating:
This continuation of the story of a developing love between teacher Michael Cassidy and his student Dominic Butler, started in Acclamation, picks up right where the first book left off, with Dominic and Michael in a London hotel room just moments after learning of the death of Dominic's father. Needless to say, all thoughts the two had of consummating their love are quickly forgotten as Michael rushes Dominic back into the arms of his family.
Tags: Contemporary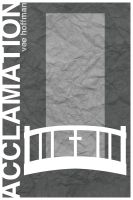 My rating:
Still stinging from the loss of his lover four years ago, Michael Cassidy takes a job as an English teacher at a Catholic school in a small English town. Although only 28 years old, he's more or less given up on life and is hiding away from it, thinking that his one great love is already behind him. However, life isn't quite through with Mr Cassidy. One day he discovers that he lives next door to one of his students, Dominic Butler.
Tags: Contemporary