My rating: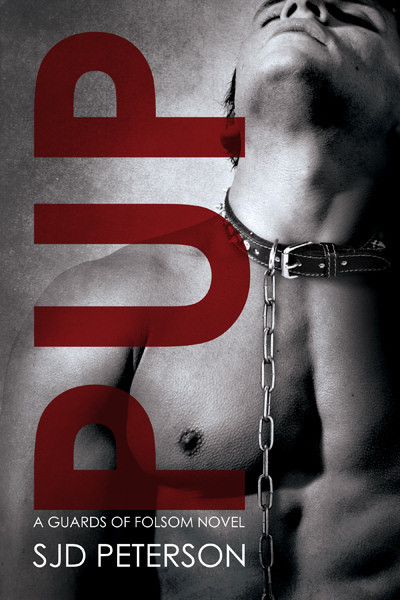 Pup (Guards of Folsom #1)
by SJD Peterson
Tagged: Contemporary , D/s
As Tackett Austin marks the passing of another year with a drink at his BDSM club, the Guards of Folsom, he begins to look back and question some of the choices he has made. Yes, he is well-to-do and has a successful career, and he has a well-earned reputation in the club as a good Dom, with subs lining up to serve him, but as he looks around at his friends, he sees other Doms with their own collared subs, happily living the lifestyle full time. Tackett only ever plays at the club and has never had a sub of his own, even under a short term contract, but as he sees how happy his friends are, he begins to wonder what it would be like to have a long term sub of his very own, what it would be like to own a pup.
And then there's Micah, a young man little more than half Tackett's age, and who makes him feel every bit of the difference. The club's bartender is flirty and flippant and beautiful. Micah knew that Tackett was the Dom for him the minute he laid eyes on the big burly man. Young as he may be, Micah doesn't want to just play scenes with a Dom, he wants to be owned 24/7, by Tackett. The trouble is, the Dom isn't sure he wants to own any sub, let alone the scatterbrained Micah. The boy's mind runs at breakneck speed, and changes direction easily. If he wants to win Tackett over, he will need to focus on serving the Dom's needs, which will be the hardest thing he's ever done.
"Pup" was a rather pleasant surprise. The blurb has you expecting a rather light fluffy story, yet it's longer than many books in this genre, and when the two men get together only a few chapters in, you begin to wonder where it's all leading. Where it goes is into a close examination of how Tackett and Micah come to terms with new feelings and learn to help each other. Micah is the one who seems to have the longest way to go, as he needs to marshal his thoughts to keep them from wandering, so he can focus on his Dom. But Tackett also needs to overcome his doubts about whether or not he can be a full-time Dom so he can give Micah what he needs, and he also needs to accept the feelings he has for the young pup.
The two main characters are very well drawn, and chances are you'll identify with one or the other of them. The story line, while perhaps not exactly true-to-life, is still realistic enough to allow you to believe it just might be possible. The only real complaint about the story is that near the end there are a couple of time jumps when it isn't clear what has happened and it takes you several paragraphs to piece together the fact that, for example, Micah has been in cuffs for several days. Other than that, "Pup" is well written, with very few editing or proofing errors to disrupt the fun.
"Pup" is available directly from the publisher, Dreamspinner Press, or at Amazon
.